3D Flowers Embroidery Machine Designs
Buy Individual Designs | Vote for a Design | Print Designs | Stitch Charts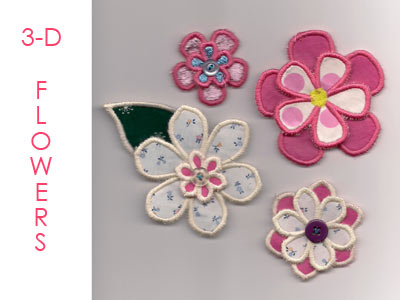 10 Designs
All Fit the 4x4 Hoop
Digitized by Rhonda
See all sets by Rhonda
Rhonda's Bio
Comments about this set from the forums (updated every half hour on the half hour):
treed1000:
Please direct me to directions for use. Are these done on tearaway or wash away on cloth?
Shastasmom:
Complete instructions come with the set. However, you can stitch them on tear away or on FSL. Follow basic instructions for applique. Flowers can be mixed & matched in any combination. To use the center flower design. Find the center of your hoop. Layer the flowers in the order you prefer. Tape in place and stitch the center. You can also attach them together with a needle & thread, using a cute button as the center of flower. Attach a Snap or Velcro on the back and on your project so that you can mix and match your flower creations. Or simply glue them on to your project.
nonnadonna:
I can think of several uses for these flowers. The first thing I want to do is add several to a bag I've made to give it some pizzazz!
cooperregina:
These are adorable. I am going to stitch some to put on burp cloths and baby blankets.
GMA53010:
They are cute. I can't wait to see how they work out. I hope you post a picture of your projects.
groovyholly:
I've been looking for ITH flowers and these are perfect! Thanks so much, great design! Hopefully there will be more to come.
Leave a comment about this set on our forums
Design Set Categories: Project, Flowers and Plants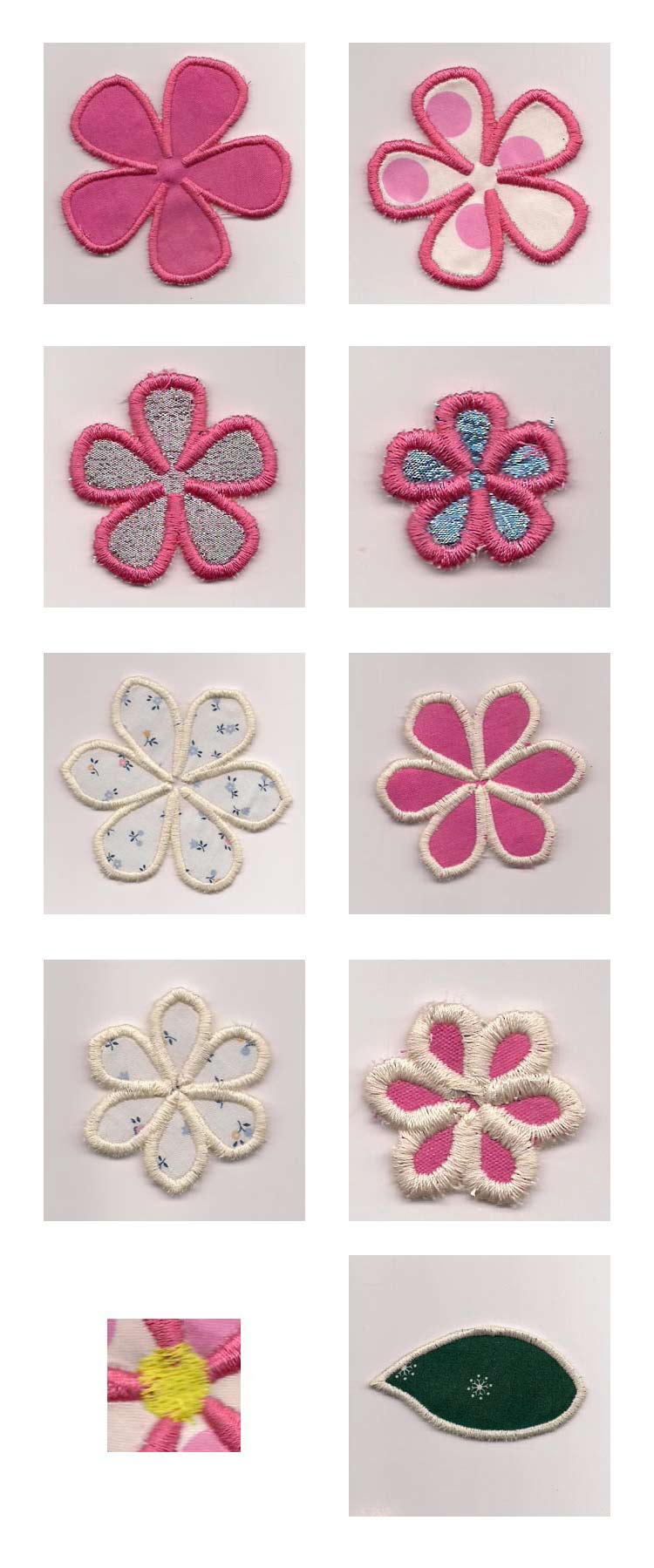 Buy All The Above Designs
On Sale: 6.80 $1.50

Buy Individual Designs | Vote for a Design | Print Designs | Stitch Charts


Members download this set now..[ art ][ dst ][ exp ][ hus ][ jef ][ pcs ][ pes ][ sew ][ vip ][ vp3 ][ xxx ]


Original clipart may have been purchased from:
http://www.designstitch.com or http://www.clipartopolis.com or http://www.jdsclipart.com or http://www.diddybag.com or http://scrappinggoodies.com or http://digiscrapkits.com/ or http://www.marlodeedesigns.com/ or http://sugarbeargraphics.com or http://SweetnSassyclipart.com or http://DigiWebStudio.com.com

Contact Us | Privacy Policy | Staff

Website and Embroidery Designs Copyright (C) Shawn Knight Systems Inc.
Permission granted to use machine embroidery designs for your own commercial and personal embroidery.
Permission denied to resell or give away machine embroidery designs in electronic format.