Bookmark This Page
American Rider Blocks Embroidery Machine Designs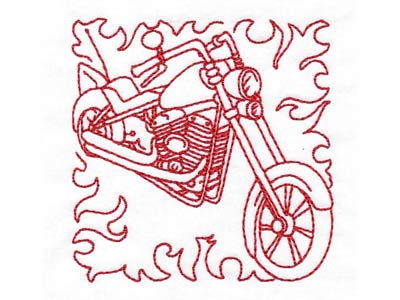 24 Designs
12 Fit the 4x4 Hoop
12 Fit the 5x7 Hoop
Digitized by Corky
See all sets by Corky
Corky's Bio
Like this design set?
Share this design set?
Pin this design set?
Pin It
Comments about this set from the forums (updated every half hour on the half hour):
SiCK:
24 Designs
12 Fit the 4x4 Hoop
12 Fit the 5x7 Hoop available in .ART .PES .VIP .PCS .JEF .SEW for most embroidery machines including Brother embroidery machines, Janome embroidery machines, Viking embroidery machines, Berina embroidery machines, Melco embroidery machines and more. Tags: [url=http://www.designsbysick.com/details/americanriderblocks]Set the set[/url]
mwjemmott:
Thanks for giving us such a lovely design.
Pinon:
Thanks for repairing the link!
Maggie:
Shawn, thank you and Corky for a gr8 design set for men and boys. I have bought this set and downloaded. I hope American Steam Locomotives are on you "to do list". :-) maggie
sewtired:
Great Idea.
Leave a comment about this set on our forums
Design Set Categories: Red Work, Motor Cycles






Buy All The Above Designs
On Sale: 5.60 $2.80

Buy Individual Designs | Vote for a Design | Print Designs | Stitch Charts


Members download this set now..[ art ][ dst ][ exp ][ hus ][ jef ][ pcs ][ pes ][ sew ][ vip ][ xxx ]


Original clipart may have been purchased from:
http://www.designstitch.com or http://www.clipartopolis.com or http://www.jdsclipart.com or http://www.diddybag.com or http://scrappinggoodies.com or http://digiscrapkits.com/ or http://www.marlodeedesigns.com/ or http://sugarbeargraphics.com or http://SweetnSassyclipart.com or http://DigiWebStudio.com.com

Website and Embroidery Designs Copyright (C) Shawn Knight Systems Inc.
Permission granted to use machine embroidery designs for your own commercial and personal embroidery.
Permission denied to resell or give away machine embroidery designs in electronic format.