Applique Calla Lilies Embroidery Machine Designs
Buy Individual Designs | Vote for a Design | Print Designs | Stitch Charts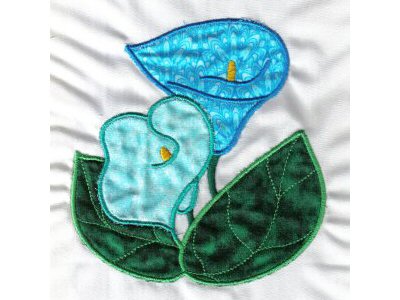 20 Designs
10 Designs Fit 4x4 Hoops
10 Designs Fit 5x7 Hoops
Digitized by Heidi
See all sets by Heidi
Heidi's Bio
Comments about this set from the forums (updated every half hour on the half hour):
momsantoni:
Hello I have used the Calla Lillies set to create hand made "Wedding Aprons"; using white polyester satin for the apron as well as the applique of leaves and Calla Lily flowers; with pure white thread in bobbin and needle. Everyone I have made one for is absolutely thrilled with the apron, and many plan to pass their aprons down through their "future" families. js
motoandnutty:
I hadn't heard of them either, so I did an internet search - I think that they are an excellent idea, to protect the dress whilst getting ready, and as a keepsake that is useful as well! :)
chris13212:
I also like the idea of wedding aprons. My daughter is getting married in September, and I will definetly borrow your idea for the the wedding party. Thanks. Chris PS..these..and stargazers..are my favorite lillies.
Mal Mellor:
excuse my ignorance. what is a wedding apron. must be a US thing?
RWood:
A very beautiful set.
worthy:
HI momsantoni, thank you for the creative way to use these designs. What a wonderful keepsake. I filed your idea in the folder with my designs.
Maggie:
This lovely flower is very well done in applique. Thank you for providing this design in two hoop sizes and all formats. maggie
Leave a comment about this set on our forums
Design Set Categories: Applique, Flowers and Plants






Buy All The Above Designs
On Sale: 4.00 $1.50

Buy Individual Designs | Vote for a Design | Print Designs | Stitch Charts


Members download this set now..[ art ][ dst ][ exp ][ hus ][ jef ][ pcs ][ pes ][ sew ][ vip ][ vp3 ][ xxx ]


Original clipart may have been purchased from:
http://www.designstitch.com or http://www.clipartopolis.com or http://www.jdsclipart.com or http://www.diddybag.com or http://scrappinggoodies.com or http://digiscrapkits.com/ or http://www.marlodeedesigns.com/ or http://sugarbeargraphics.com or http://SweetnSassyclipart.com or http://DigiWebStudio.com.com

Contact Us | Privacy Policy | Staff

Website and Embroidery Designs Copyright (C) Shawn Knight Systems Inc.
Permission granted to use machine embroidery designs for your own commercial and personal embroidery.
Permission denied to resell or give away machine embroidery designs in electronic format.