Chenille Font Embroidery Machine Designs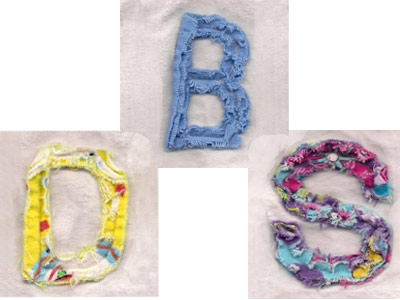 26 Designs
Instructions included
All Fit the 4x4 Hoop
Digitized by Rhonda
Comments about this set from the forums (updated every half hour on the half hour):
Patches807:
Very nice set. What a great idea.
littlefoot:
I'm not quite sure how this chenille works?
Dreama:
This is a good way to use up small scraps of flannel, I think the instructions said to use 3 layers.
Sonja:
I can hardly wait to try this one! Love the look of chenille - but hated to do it the old way!
RWood:
Interesting designs. I am not sure I like them.
aaltje:
Great idea, bought them immediately. Can't wait to stitch them out. Do you sell time too???
aaltje:
put you fabric on the item you want to embroider, stitch the design and cut the fabric away, as much as you like. it's nice on denim!
Leave a comment about this set on our forums





Buy All The Above Designs
for $4.50

Buy Individual Designs | Vote for a Design | Buy Every Design on this Site

Members: Download this set now..[ art ][ dst ][ exp ][ hus ][ jef ][ pcs ][ pes ][ sew ][ vip ][ xxx ]


Original clipart may have been purchased from:
http://www.designstitch.com or http://www.clipartopolis.com or http://www.jdsclipart.com or http://www.diddybag.com or http://scrappinggoodies.com or http://digiscrapkits.com/ or http://www.marlodeedesigns.com/ or http://sugarbeargraphics.com