Hoop Earrings Embroidery Machine Designs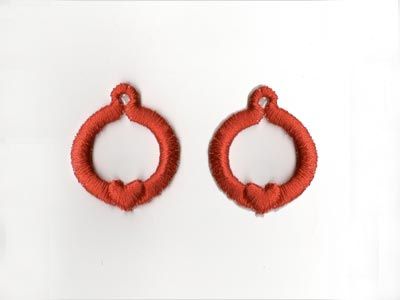 14 Designs
Project of the Week
All Fit the 4x4 Hoop
Digitized by Marlene
See all sets by Marlene
Marlene's Bio
Comments about this set from the forums (updated every half hour on the half hour):
MooMommy:
Will these work without the vinyl?
Maggie:
I made these hoop earrings without vinyl, they were limp and out of shape. Vinyl is needed to keep the round shape. I use table cloth vinyl for all embroidery projects requiring vinyl. Some of the ladies here in the forum say they use the vinyl bags that new blankets come in. maggie
rycalkat:
Thanks Maggie for the info...I've not made any but ...thought I would try peace signs for GD...So creative
GMA53010:
Cute earring set!!
Ladybug:
Glad to know about the bags got lots of them, save them all the time Never thought to use them Thanks :)
jackie15:
Thank you for the tips. Proper care will save money in long term. Someone always help make seriuosly posts i'd condition.
Leave a comment about this set on our forums
Design Set Categories: Project, Jewellary






Buy All The Above Designs
for $4.00

Buy Individual Designs | Vote for a Design | Print Designs | Stitch Charts


Members download this set now..[ art ][ dst ][ exp ][ hus ][ jef ][ pcs ][ pes ][ sew ][ vip ][ vp3 ][ xxx ]


Original clipart may have been purchased from:
http://www.designstitch.com or http://www.clipartopolis.com or http://www.jdsclipart.com or http://www.diddybag.com or http://scrappinggoodies.com or http://digiscrapkits.com/ or http://www.marlodeedesigns.com/ or http://sugarbeargraphics.com or http://SweetnSassyclipart.com or http://DigiWebStudio.com.com

Contact Us | Privacy Policy | Staff

Website and Embroidery Designs Copyright (C) Shawn Knight Systems Inc.
Permission granted to use machine embroidery designs for your own commercial and personal embroidery.
Permission denied to resell or give away machine embroidery designs in electronic format.