Lineart Lily Blocks Embroidery Machine Designs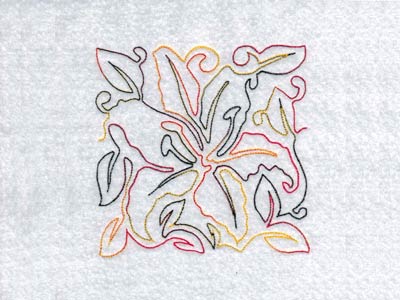 24 Designs
12 Fit the 5x7 Hoop
12 Fit the 4x4 Hoop
Digitized by Rhonda
Comments about this set from the forums (updated every half hour on the half hour):
mwjemmott:
Oh! my this is really a beautiful set. Keep surprising us. A job well done, thanks a million.
worthy:
Very nice. Love the airiness of the designs. Also love the look of them stitched with variegated thread. Thank you
terri1:
Oh wow,these are just gorgeous!!!! THANK YOU!!!!! I can't wait to incorporate them into a quilt :)
Lynn1029:
Looking forward to using these in a quilt. Plan to do a mix of colors - plain and verigated. Will try both pastels and bright colors.
Leave a comment about this set on our forums





Buy All The Above Designs
for $4.20

Buy Individual Designs | Vote for a Design | Buy Every Design on this Site

Members: Download this set now..[ art ][ dst ][ exp ][ hus ][ jef ][ pcs ][ pes ][ sew ][ vip ][ xxx ]


Original clipart may have been purchased from:
http://www.designstitch.com or http://www.clipartopolis.com or http://www.jdsclipart.com or http://www.diddybag.com or http://scrappinggoodies.com or http://digiscrapkits.com/ or http://www.marlodeedesigns.com/ or http://sugarbeargraphics.com