Paisley Quilt Blocks Embroidery Machine Designs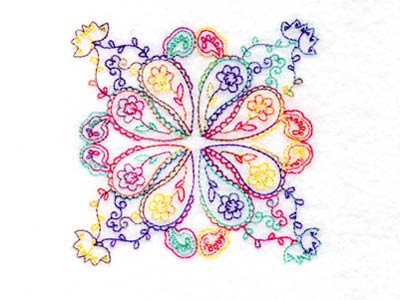 48 Designs
One Color Design
Sample Stitched Using Variegated Thread
12 Designs for the 4x4 5x5
6x6 and 8x8 hoops
Digitized by Bonnie
Comments about this set from the forums (updated every half hour on the half hour):
terri1:
Thank you for the absolutely beautiful set!!! And I love that is has all the different sizes :) :)
mwjemmott:
Very beautiful paisley quilt set. It had some disappearing moments, nonetheless it's worth waiting for. The colours are radiant, thanks DBS.
worthy:
Lovely lovely set. Am I correct that you uses a variegated thread as the stitch chart shows one color. Must say it is one of the nicest paisley designs I have seen.
worthy:
I should have also said love the variety of sizes, great. Is it possible to know the thread information used to stitch these?
Sonja:
Really nice blocks - thanks so much.
shazells:
I am having troublewith mine when I downloaded them they are all in black no colour is that how yours was thanks Shazells
clv6992:
I was a bit surprised to see the download as only black, but then I went back to the actual picture and realized the design was done in varigated thread. Still pretty designs even if separate colors are not used.
shazells:
thanks they are nice
ceirby:
amazing and thank you for showing it in varigated thread its beautiful
Salsabil:
I can't await to stitch it out!:D Thanks!
tallchick:
stunning!!!!
ceirby:
yes it's done in varigated thread
pvolumea:
i would really like to know which thread you used, that is, which variegated one, and where to purchase it, please.
mtn-hi:
These are so pretty! Would make a beautiful quilt.
cooperregina:
These stitched out even prettier than I imagined! I used ThreadArt Tutti Frutti on mine.
vancouverlori:
I am stitching it out right now using Coats Machine Embroidery Multi Color #167. I think that it is a discontinued color as I cannot locate any info about it, but it is Jewel tones and looks exactly like what is used on the web page stitch out. I'd suggest looking for a Jewel Tone Mulit-color/Varigated thread.
worthy:
I put in a support ticket when these first came out and they checked with the digitizer.. She could not remember what thread she used. Know that is no help, just wanted to let you know what I found out.
pvolumea:
thank you oh so much, I appreciate it.
cooperregina:
I used ThreaDelight's color Purple Plus and I bought a whole set of 40 variegated threads online through ABC Machine Embroidery. Their site is [URL="http://www.abc-machine-embroidery.com"]www.abc-machine-embroidery.com[/URL] . It even came with a large sample card with the name of each of the 40 threads and the colors in it.
Leave a comment about this set on our forums





Buy All The Above Designs
On Sale: 7.90 $1.00

Buy Individual Designs | Vote for a Design | Buy Every Design on this Site

Members: Download this set now..[ art ][ dst ][ exp ][ hus ][ jef ][ pcs ][ pes ][ sew ][ vip ][ xxx ]


Original clipart may have been purchased from:
http://www.designstitch.com or http://www.clipartopolis.com or http://www.jdsclipart.com or http://www.diddybag.com or http://scrappinggoodies.com or http://digiscrapkits.com/ or http://www.marlodeedesigns.com/ or http://sugarbeargraphics.com