Wedding Embroidery Machine Designs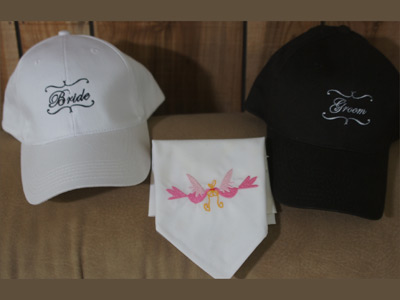 13 Designs
All Fit the 4x4 Hoop
Digitized by Marlene
Comments about this set from the forums (updated every half hour on the half hour):
chris13212:
These couldnt have come at a better time. My daughter is getting married in September (a Vegas wedding), and already ideas are buzzing around in my head on what to embroidery these designs on. Chris
RSD123:
A great set to have thank you.:p
Sonja:
These are really nice - great potential for wedding parties.....thank you for this set.
Sonja:
Thanks for this set - now all I need is a wedding!!
RWood:
Quite Pretty Thank you. I really like the examples you`ve shown.
worthy:
Wonderful. we have a 50th coming up and some of these would be great for that. How fun
worthy:
I think you need a special hoop to embroidery on the front of hats. I have embroidered on the back of a ball cap using stick stabilizer in my hoop.
sackgirl:
I would realy like to know how you stiched on the hat ?They look great . My nefew weding coming soon .
sackgirl:
thank you thats good to know. :D
Lynnae:
my hat is off to you..you did a great job.. i bet everyone was so impressed with your work.. its a nice set.. an great idea. thank you..
Leave a comment about this set on our forums





Buy All The Above Designs
for $3.90

Buy Individual Designs | Vote for a Design | Buy Every Design on this Site

Members: Download this set now..[ art ][ dst ][ exp ][ hus ][ jef ][ pcs ][ pes ][ sew ][ vip ][ xxx ]


Original clipart may have been purchased from:
http://www.designstitch.com or http://www.clipartopolis.com or http://www.jdsclipart.com or http://www.diddybag.com or http://scrappinggoodies.com or http://digiscrapkits.com/ or http://www.marlodeedesigns.com/ or http://sugarbeargraphics.com