Mr and Mrs Santa Paper Dolls Embroidery Machine Designs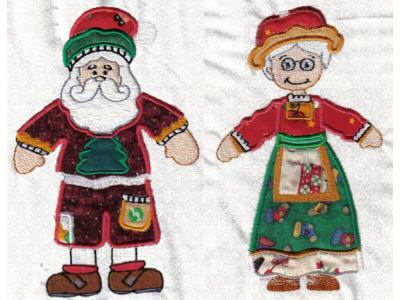 12 Designs
2 Dolls
With Outfits for Each
All Fit 5x7 Hoops
Digitized by Heidi
Like this design set?
Pin this design set?
Pin It
Comments about this set from the forums (updated every half hour on the half hour):
cooperregina:
very cute, but how do you keep the clothes on? Velcro?
GMA53010:
I was wondering the same thing. How do the clothes stay on??
Leave a comment about this set on our forums





Buy All The Above Designs
for $2.00

Buy Individual Designs | Vote for a Design | Buy Every Design on this Site

Members: Download this set now..[ art ][ dst ][ exp ][ hus ][ jef ][ pcs ][ pes ][ sew ][ vip ][ xxx ]


Original clipart may have been purchased from:
http://www.designstitch.com or http://www.clipartopolis.com or http://www.jdsclipart.com or http://www.diddybag.com or http://scrappinggoodies.com or http://digiscrapkits.com/ or http://www.marlodeedesigns.com/ or http://sugarbeargraphics.com