Back to Top
Christmas Sucker Covers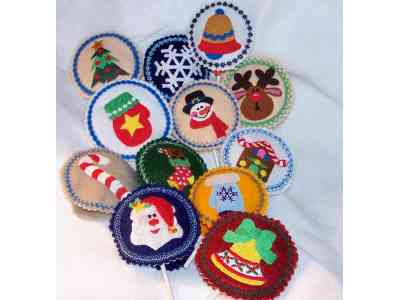 24 Designs
2 sizes Regular size holds round sucker
Tootsie size holds Tootsie Pop
Digitized by Jonell
Buy This Design Set
On Sale: 7.00 $1.00
VIP Members download this set now..
[ art ][ dst ][ exp ][ hus ][ jef ][ pcs ][ pes ][ sew ][ vip ][ vp3 ][ xxx ]
Design Set Categories: Filled Design, Project, Winter, Reindeer, Christmas, Food & Drink, Animal, Children, Weather, Clothing, Trees

Comments about this set from the forums (updated every half hour on the half hour):
cairn0095:
I made these adorable sucker covers for my granddaughter's kindergarten class. I glued a ribbon loop on the back so they could be used as an ornament after they enjoyed the sucker. They stitched out beautifully and were so much fun to make. Thank you for these great designs.
Leave a comment about this set on our forums
Like this design set?

Pin this design set?
Pin It
Tweet this set?
Tweet


Original clipart may have been purchased from:
http://www.designstitch.com or http://www.clipartopolis.com or http://www.jdsclipart.com or http://www.diddybag.com or http://scrappinggoodies.com or http://digiscrapkits.com/ or http://www.marlodeedesigns.com/ or http://sugarbeargraphics.com or http://SweetnSassyclipart.com or http://DigiWebStudio.com or http://delightful-doodles.com
Contact Us | Privacy Policy | Staff

Website and Embroidery Designs Copyright (C) Shawn Knight Systems Inc.
Permission granted to use machine embroidery designs for your own commercial and personal embroidery.
Permission denied to resell or give away machine embroidery designs in electronic format.