Vote for a Design in this set
Print Designs in this set
Stitch Charts for this set
In The Hoop Candy Cane Ornaments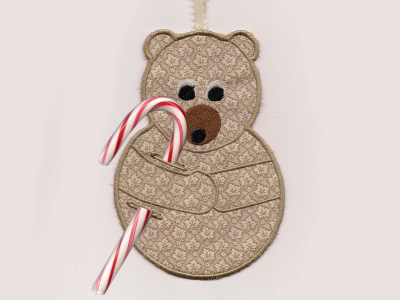 10 Designs
All Fit the 5x7 Hoop
Digitized by Rhonda
Buy This Design Set
On Sale: 12.90 $2.00
All machine formats included with purchase! Optional: get it on CD after purchase!
VIP Members download this set now..
art dst exp hus jef pcs pes sew vip vp3 xxx
Design Set Categories:
Applique Project Winter Bear Mouse Penguin Christmas Sayings Animal Icons-Signs-Symbols Food & Drink Clothing Transportation

Like this design set?

Pin this design set?
Pin It
Tweet this set?
Tweet
Comments about this set from the forums (updated every half hour on the half hour):
pa8hof6man@att.net:
stitched out the snowangel. Cute, cute, cute! I love the Santa, too! These will make great party favors for breakfast with Santa next year, (I'll need to stitch out 100!)
kannycrafter:
Hi I agree these are lovely can I ask when you say your going to make favours what exactly do u mean , will u stitch them onto a bag? Sorry for such a daft question :-)
landons:
This is a cute, cute set. However, I was a bit stymied on the penguin. I started with black fabric instead of white. Are there directions for the sequence of materials to be appliqued on this set? Thanks much.
designsbyrhonda:
I sent in written instructions, I'll have Rob post them. The lighter fabric is the base fabric in these. Simply because you can stitch any color over the light or white fabric, but it's really hard to get coverage of lighter thread over dark material. So glad you like them. Thanks, Rhonda
pa8hof6man@att.net:
If you follow the stitch order, using the placement lines for each part as it is stitched, you shouldn't have any problems. I don't own the penguin, but the appliques from here have all been digitized to stitch out in order.
trulymaterialistic:
Will you be offering this in 4x4 for mini candy canes? I cant do 5x7 and they are too cute!
pa8hof6man@att.net:
Each year our neighborhood has a special "Breakfast with Santa." We always bring candy canes for Santa to give to the children. I thought theses would be a cute addition to the tradition!
doris100947:
I also tried the penguin. I downloaded the stitch charts, but in the penquin, where the thread should be black, it is green. Most all of the threads are wrong. Why isn't it downloading with the right colors?
Shastasmom:
When a design is applique, different colors are used to tell the machine when to stop. If the threads were the correct color, the machine wouldn't stop in the correct place for the next action, need by the operator. If the thread should be black, make it black. You can use your own color scheme.
pa8hof6man@att.net:
Doris100947, keep in mind that the downloaded design is a stitch file. Check Rhonda's post here http://www.designsbysick.com/articles/ith-candy-cane-ornaments/ for specific thread colors for the ITH Candy Cane Ornaments. The colors in a downloaded file may actually represent stitch instructions v. design colors. When I digitize applique designs, I use a set of standard colors for placement lines and tack-down stitches, followed by the design color for the finish stitches. This helps me to keep track of the design elements and steps as I work through the design allowing me to re-order elements as needed without having to program extra machine stops and trims, as the machine will automatically stop and trim for the color change. The stitch charts, design charts, or color charts will give instructions as to actual thread colors to use, and some may offer fabric instructions. Look for these, and download them when you make a purchase. Read through this additional information before stitching out your designs for best results.
Leave a comment about this set on our forums

Original clipart may have been purchased from:
http://www.designstitch.com or http://www.clipartopolis.com or http://www.jdsclipart.com or http://www.diddybag.com or http://scrappinggoodies.com or http://digiscrapkits.com/ or http://www.marlodeedesigns.com/ or http://sugarbeargraphics.com or http://SweetnSassyclipart.com or http://DigiWebStudio.com or http://delightful-doodles.com
Contact Us
|
Privacy Policy
|
Staff
Website and Embroidery Designs Copyright (C) Shawn Knight Systems Inc.
Permission granted to use machine embroidery designs for your own commercial and personal embroidery.
Permission denied to resell or give away machine embroidery designs in electronic format.