32,751
DesignsBySiCK.com
designs plus 23,972
KatieDo.com
designs,
65,502 designs online!
Back to Top
Vote for a Design in this set
Print Designs in this set
Stitch Charts for this set
Winter Birds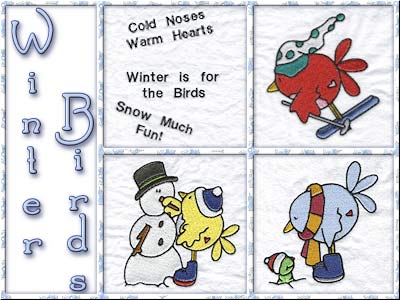 10 Designs
All Fit the 4x4 Hoop
Digitized by Rhonda
Buy This Design Set
On Sale: 2.99 $2.00
All machine formats included with purchase! Optional: get it on CD after purchase!
VIP Members download this set now..
art dst exp hus jef pcs pes sew vip vp3 xxx
Design Set Categories:
Filled Design Winter Bird Animal Sayings

Like this design set?

Pin this design set?
Pin It
Tweet this set?
Tweet
Comments about this set from the forums (updated every half hour on the half hour):
Shastasmom:
Sewtired, no onecan access this set or any set. Error message received when click on 'See this set' is "I'm sorry, something has gone terribly wrong. Back to DesignsBySiCK.com" a support ticket and a thread has been started. https://www.designsbysick.com/forums/showthread.php/34070-Can-t-access-quot-See-this-set-quot?p=570492#post570492 But I also couldn't find it doing a search by design set.
cooperregina:
Have you been able to get the set yet?
sewtired:
"I'm sorry, something has gone terribly wrong. Back to DesignsBySiCK.com" is the message I receive when I click the link to the set. When I try to update the new designs page, there is no new set there. I was out when this set was posted and I was able to access it from my phone and categorize, but I can't locate it now.
Leave a comment about this set on our forums

Original clipart may have been purchased from:
http://www.designstitch.com or http://www.clipartopolis.com or http://www.jdsclipart.com or http://www.diddybag.com or http://scrappinggoodies.com or http://digiscrapkits.com/ or http://www.marlodeedesigns.com/ or http://sugarbeargraphics.com or http://SweetnSassyclipart.com or http://DigiWebStudio.com or http://delightful-doodles.com
Contact Us
|
Privacy Policy
|
Staff
Website and Embroidery Designs Copyright (C) Shawn Knight Systems Inc.
Permission granted to use machine embroidery designs for your own commercial and personal embroidery.
Permission denied to resell or give away machine embroidery designs in electronic format.