Applique Animal Quilt Windows Embroidery Machine Designs
Buy Individual Designs | Vote for a Design | Print Designs | Stitch Charts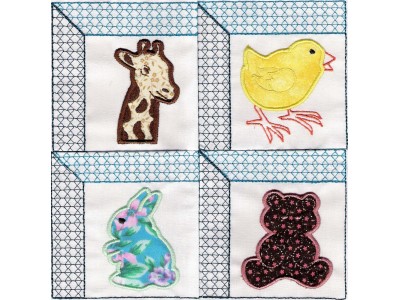 11 Applique Quilt Designs
Blank Window Included not shown
3.9x3.9
Digitized by Carol
See all sets by Carol
Carol's Bio
Comments about this set from the forums (updated every half hour on the half hour):
motoandnutty:
I would be inclined to put the blocks together as they are in the demonstration picture and then choose a single color fabric to make a border around the entire perimeter of the quilt, - reversing the design would probably spoil the ilusion of 3D that this style gives. You could do a 'quilt as you go' method, but without the sashing (joining strips of fabric), as that would also spoil the illusion. As you are planning a baby's quilt it would probably be easier to join all the blocks and use a single piece of batting and single piece of fabric as the backing, and then quilt it together by stitching 'in the ditch'. :)
JaneO:
are there directions for putting this quilt together. I love these little guys, but I'm new to quilts and would love to make this for my expected grandbaby. Do you put the batting under the fabric to be stitched so it can quilt the squares as you go? How to you finish the final rows on the right side if the diamond designs are only on the top and left side, do you reverse the blank square?. Then I guess you border the sewn together squares and add a backing? any and all help would be appreciated. thank you so much, I love this site and have become a new member to take advantage of the terrific designs.
Leave a comment about this set on our forums
Design Set Categories: Quilt, Applique, Butterflies, Cow, Bird, Giraffe, Cat, Bear, Pig, Chicken, Bunny, Rabbit, Camel, Insect, Animal, Baby, Children, Farm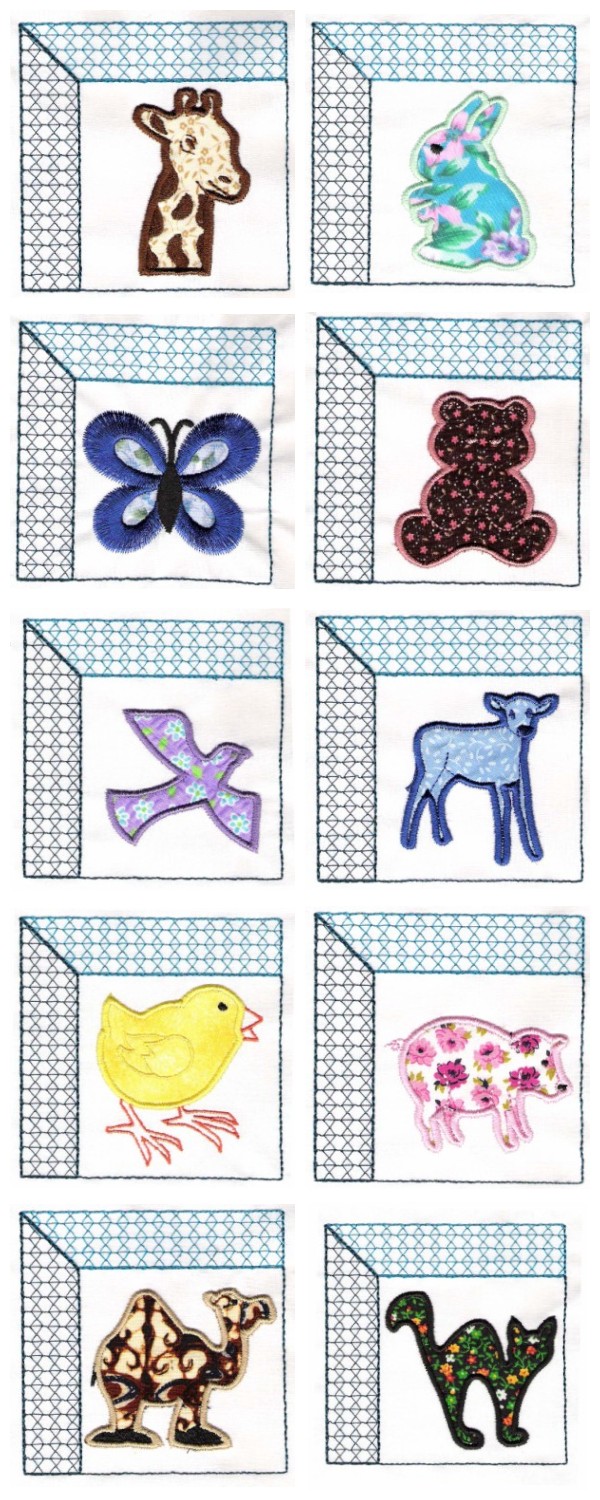 Buy All The Above Designs
for $4.00

Buy Individual Designs | Vote for a Design | Print Designs | Stitch Charts


Members download this set now..[ art ][ dst ][ exp ][ hus ][ jef ][ pcs ][ pes ][ sew ][ vip ][ vp3 ][ xxx ]


Original clipart may have been purchased from:
http://www.designstitch.com or http://www.clipartopolis.com or http://www.jdsclipart.com or http://www.diddybag.com or http://scrappinggoodies.com or http://digiscrapkits.com/ or http://www.marlodeedesigns.com/ or http://sugarbeargraphics.com or http://SweetnSassyclipart.com or http://DigiWebStudio.com.com

Contact Us | Privacy Policy | Staff

Website and Embroidery Designs Copyright (C) Shawn Knight Systems Inc.
Permission granted to use machine embroidery designs for your own commercial and personal embroidery.
Permission denied to resell or give away machine embroidery designs in electronic format.