Applique Sunbonnet Alphabet Embroidery Machine Designs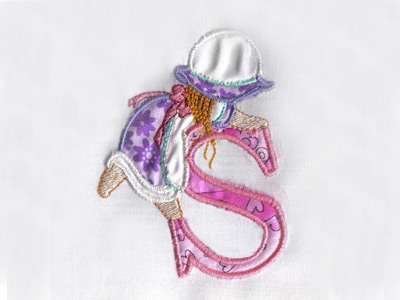 26 Designs
All Fit the 4x4 Hoop
Digitized by Heidi
Comments about this set from the forums (updated every half hour on the half hour):
motoandnutty:
[FONT=century gothic][SIZE=4]I've just had a look at the designs in the set, and here are my findings : A B C D F I K M O and Q are all the same size, and the largest letters, P and R are a little smaller, next letters smaller still are E G and J, even smaller are L N S T U V W and Y, and smallest of all is the letter X. I can see the reason that some of the letters are smaller than the first lot - if they had been the same size they would have required a larger hoop. For example - the size of the A design is 3.[SIZE=4]92[/SIZE]" x 3.7[SIZE=4]5[/SIZE]", but if the W design was made to have the letter in the same scale it would have measured 5.05" x 3.72" (and the sunbonnet w[SIZE=4][SIZE=4]ould[/SIZE] look too large [SIZE=4]if you do a simple 'enlarge' of the design)[/SIZE][/SIZE] They would look fine as they are as individual blocks for an alphabet quilt, but if you want to use them as combined initials you would perhaps need to do quite a bit of editing to get it right. :)[/SIZE][/FONT]
vancouverlori:
I haven't stitched these out yet, but it looks like the letters are NOT all the same size, which will be a problem.
Leave a comment about this set on our forums





Buy All The Above Designs
for $1.50

Buy Individual Designs | Vote for a Design | Buy Every Design on this Site

Members: Download this set now..[ art ][ dst ][ exp ][ hus ][ jef ][ pcs ][ pes ][ sew ][ vip ][ xxx ]


Original clipart may have been purchased from:
http://www.designstitch.com or http://www.clipartopolis.com or http://www.jdsclipart.com or http://www.diddybag.com or http://scrappinggoodies.com or http://digiscrapkits.com/ or http://www.marlodeedesigns.com/ or http://sugarbeargraphics.com