Beverage Wraps Embroidery Machine Designs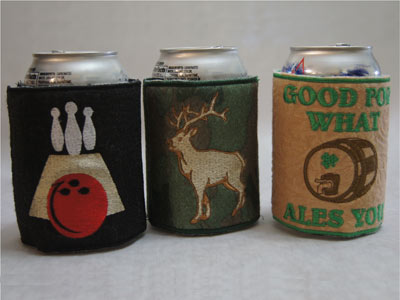 16 Designs
In The Hoop Project of the Week
For the 4x4 5x7 and 6x10 Hoops
Digitized by Marlene
Comments about this set from the forums (updated every half hour on the half hour):
SiCK:
BTW (by the way): It was Linda who thought of these and asked Marlene to make them
SiCK:
I agree, 15 bucks seems very reasonable to me :)
clv6992:
These designs would be nice even on items other than the beverage can wraps and these are great for guy items. Also, there are so many cute and nice designs, let your imagination go to all the childrens and ladies items. Quilt square designs would be nice for the ladies or floral patterns. These would be great items for the Christmas bazaars.... got an event coming up in December, Thinking......
Marlenec:
Hi, I used textured felt from Hobby Lobby (Michael's has them)on all these designs. You can find it at most any fabric and craft stores (approx) 12"x9" each.
teddy_rn:
I love my membership because I don't need to worry about payday or points or anything :)
littlefoot:
This is definitely a set I have to get!
chris13212:
Great idea....and the directions are...where??...prolly right under my nose..I just need more coffee to find them. Chris
bgood:
These are great, would love to see something for children or ladies.
wallerubw:
Chris go to articles and the directions are included in the article about the can wraps.
wallerubw:
Puffity, that is why I bought a membership. It makes a great gift to yourself. You can download ALL the designs for free after you get a membership. Well worth the cost.
Kani:
I would like to know how she got the tooled leather look in the race horse design? Love that look.
Shastasmom:
I agree wallerubw, membership is the only way to go, no worrying about purchasing a design, just dl it.
Maggie:
Shawn, thank you and Marlene, for a "cool" POTW!! :-) maggie
sharon w:
[B]Great timing[/B]. At the bowling tournament this weekend, DH will be wearing his new bowling shirt [I]and[/I] holding his pop in his new can sleeve! ps I bet this would make a great design on a pocket too!
rycalkat:
I really like the Camo Deer Wrap... cause I have alot of hunters in our area...can wraps come in handy especially in the summer time...
Puffity:
It does make sense but I already bought the CDs from the fall 2010. So it's the new ones only and I would buy it with my points. $2.50 is reasonnable with my points but $11.45 is too much. Wasn't fast enough this morning and will have to wait. Thanks for the info. It is a great way to go. Diane
Puffity:
I now have to wait for the dollar page to get them. This morning it was $2.50 and I was going to buy them but had to run out and when I come back it is $10.60. An hour later it is $11.45 It is a wonderful project that I wish to do. Diane
dory5112:
I have been waiting for something like this! My machine only does 4x4. So this is perfect! I can make a bunch for all my family and maybe something for myself! :cool:
Leave a comment about this set on our forums





Buy All The Above Designs
On Sale: 6.40 $1.00

Buy Individual Designs | Vote for a Design | Buy Every Design on this Site

Members: Download this set now..[ art ][ dst ][ exp ][ hus ][ jef ][ pcs ][ pes ][ sew ][ vip ][ xxx ]


Original clipart may have been purchased from:
http://www.designstitch.com or http://www.clipartopolis.com or http://www.jdsclipart.com or http://www.diddybag.com or http://scrappinggoodies.com or http://digiscrapkits.com/ or http://www.marlodeedesigns.com/ or http://sugarbeargraphics.com