FSL Easter Earrings Embroidery Machine Designs
Buy Individual Designs | Vote for a Design | Print Designs | Stitch Charts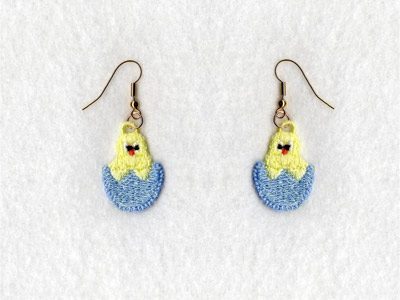 10 Designs
Free Standing Lace
All Fit the 4x4 Hoop
Digitized by Marlene
See all sets by Marlene
Marlene's Bio
Comments about this set from the forums (updated every half hour on the half hour):
SiCK:
10 DesignsFree Standing LaceAll Fit the 4x4 Hoop available in .ART .PES .VIP .PCS .JEF .SEW for most embroidery machines including Brother embroidery machines, Janome embroidery machines, Viking embroidery machines, Berina embroidery machines, Melco embroidery machines and more. Tags: See the set
aldoom:
Really cute set! Thank you
Marlenec:
Not at all and I tried to use less colors and changes. Lay them on a completely flat surface when drying and press with the palm of your hand. I didn't have to iron them but you can if you wish. Marlene Stewart
rose48458:
This set is absolutely adorable!
littlefoot:
I love these earrings
Dreama:
These are darling. I also have 3 granddaughters! Great idea, will tuck into card!
Lit Bit:
My friend and I got these and she had trouble with only the bunny by itself, she did three sets on a 4x4 hoop but when I did the same one it came out fine. My only problem was not with the design but with my thread wanted to break. I changed threads and it stitched out great!
Shastasmom:
Jbosnick, put in a support ticket on these. It's the only way to get your problem resolved. http://designsbysick.com/helpdesk/ and explain to them exactly what you did and the results.
RWood:
I absolutely love the easter earings. I have three little grandaughters they would be great for!
Didi:
I made the Chicks in the egg and the Bunnys for my GD. They came out great and everyone raved about how cute they were. My GD loved them. Just love to make her happy.:D
jeannedd:
Sew cute. I think I'll do all of them. Should fit in one or two hoopings!
jbosnick:
Bought these and stitched the bunny holding the egg three times. All times it came out terribly.....feet stitches pulled out...poorly digitized. I do a lot of earrings and use a professional machine....Won't even try the other designs.
jbosnick:
Thanks. Will do.
dory5112:
I just Love all of these! They are just too cute! I cant wait to make them! :p
Leave a comment about this set on our forums
Design Set Categories: Project, Free Standing Lace, Filled Design, Spring, Chicken, Bunny, Dog, Puppy, Easter, Jewellary, Animal, Flowers and Plants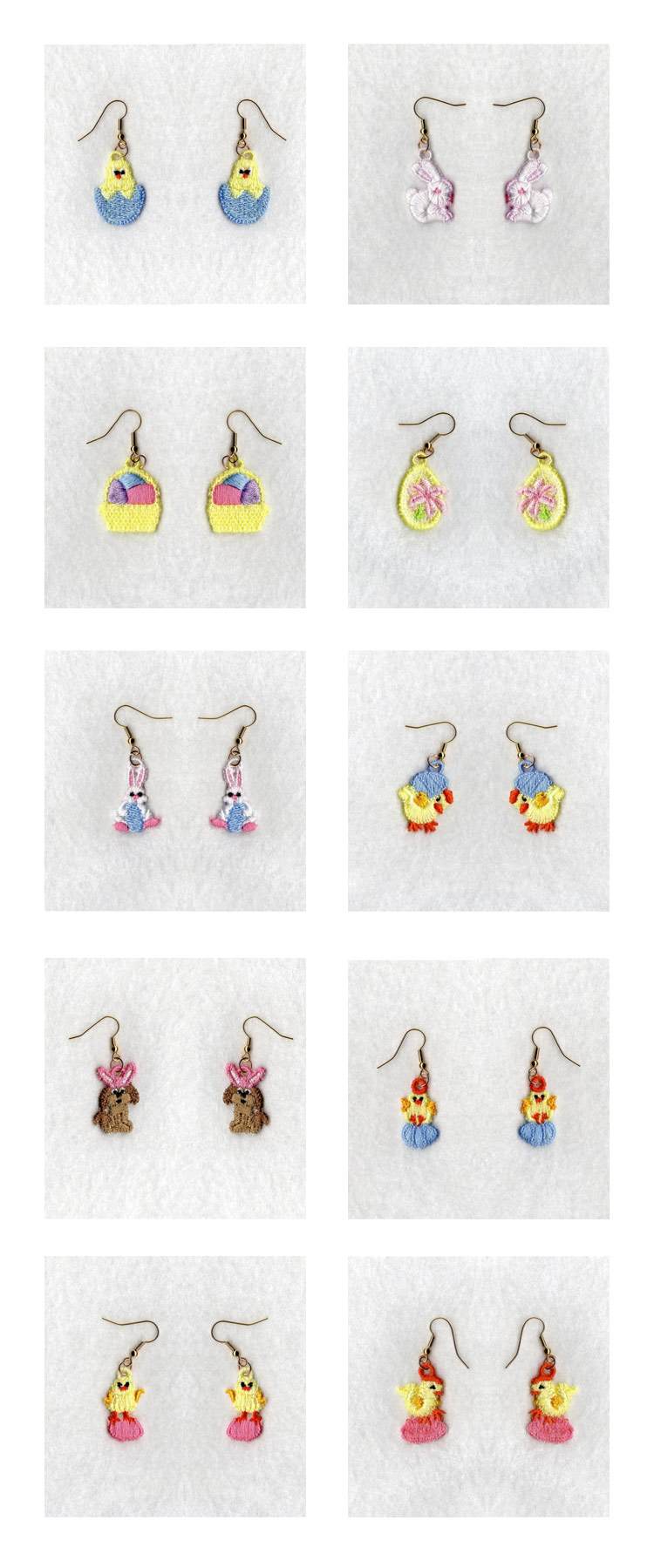 Buy All The Above Designs
On Sale: 8.50 $1.50

Buy Individual Designs | Vote for a Design | Print Designs | Stitch Charts


Members download this set now..[ art ][ dst ][ exp ][ hus ][ jef ][ pcs ][ pes ][ sew ][ vip ][ vp3 ][ xxx ]


Original clipart may have been purchased from:
http://www.designstitch.com or http://www.clipartopolis.com or http://www.jdsclipart.com or http://www.diddybag.com or http://scrappinggoodies.com or http://digiscrapkits.com/ or http://www.marlodeedesigns.com/ or http://sugarbeargraphics.com or http://SweetnSassyclipart.com or http://DigiWebStudio.com.com

Contact Us | Privacy Policy | Staff

Website and Embroidery Designs Copyright (C) Shawn Knight Systems Inc.
Permission granted to use machine embroidery designs for your own commercial and personal embroidery.
Permission denied to resell or give away machine embroidery designs in electronic format.