Eyeglass Cases Embroidery Machine Designs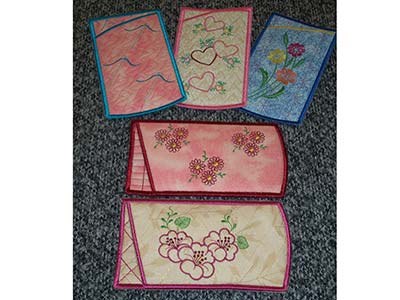 10 Designs
5 Front Designs
5 Back Designs
All Fit 5x7 Hoops
Digitized by Bonnie
See all sets by Bonnie
Bonnie's Bio
Comments about this set from the forums (updated every half hour on the half hour):
Jofrog2000:
These look nice, I have been all over searching for directions -a how to make them-pdf. Searching articles only got me to someone's project using potholders. I found stitch charts. Why not make it easier for me to decide if I want the whole set by making directions easily available? I have also found them for other projects, but the pdf files were corrupt. This is something for the new year, if you want purchasers. Thank you, Jo
Shastasmom:
jofrog, here are the instructions http://www.designsbysick.com/articles/eye-glass-case/ I found by going to: Articles, Set Instructions, cursoring down until I found August 2010, then cursoring down until I saw them. Click on the name & instructions were there.
Leave a comment about this set on our forums
Design Set Categories: Project, Other, Flowers and Plants, Objects & Things, Sewing





Buy All The Above Designs
On Sale: 7.70 $3.85

Buy Individual Designs | Vote for a Design | Print Designs | Stitch Charts


Members download this set now..[ art ][ dst ][ exp ][ hus ][ jef ][ pcs ][ pes ][ sew ][ vip ][ vp3 ][ xxx ]


Original clipart may have been purchased from:
http://www.designstitch.com or http://www.clipartopolis.com or http://www.jdsclipart.com or http://www.diddybag.com or http://scrappinggoodies.com or http://digiscrapkits.com/ or http://www.marlodeedesigns.com/ or http://sugarbeargraphics.com or http://SweetnSassyclipart.com or http://DigiWebStudio.com.com

Website and Embroidery Designs Copyright (C) Shawn Knight Systems Inc.
Permission granted to use machine embroidery designs for your own commercial and personal embroidery.
Permission denied to resell or give away machine embroidery designs in electronic format.