FSL Bouquet Embroidery Machine Designs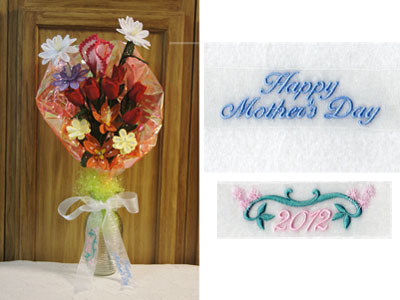 14 Designs
Perfect for Mothers Day
All Fit the 4x4 Hoop
Digitized by Marlene
Comments about this set from the forums (updated every half hour on the half hour):
Jet:
Love this design I cannot wait to start on it :p
worthy:
Thank you DBS and Marlene for the lovely Mother's Day gift. Not only flowers but design for the ribbon to decorate the vase. WOW
Sonja:
It's just lovely - thank you so much!
aurelie:
The designs are really lovely. They do take some time to stitch. You might want to pay close attention to the colors. The design details say to use cornflower blue for the violets. I changed it to darker purple and violet. Otherwise it looks more like a forgetme not LOL. I did both colors as well as the daisy for a corsage for my secret sister for mother's day. it is pinned to the gift bag of her other gift. It is cute.
celticlady1031:
This is a really creative set of designs. I guess I would have to say it is one of those gifts that keeps on giving (in a good way). Love it.
Columbine:
Some day, I'd love to see a set of FSL with a Columbine flower in it. I love the flowers and I almost feel I have to since it it my first name. This set has some parts that would work but still need a set of 5 pointed petals with spurs that can be linked in a row then add a stitch to make them surround the rounded petals and I can see it in my mind but don't know how to set up FLS to create it.
Leave a comment about this set on our forums





Buy All The Above Designs
for $7.40

Buy Individual Designs | Vote for a Design | Buy Every Design on this Site

Members: Download this set now..[ art ][ dst ][ exp ][ hus ][ jef ][ pcs ][ pes ][ sew ][ vip ][ xxx ]


Original clipart may have been purchased from:
http://www.designstitch.com or http://www.clipartopolis.com or http://www.jdsclipart.com or http://www.diddybag.com or http://scrappinggoodies.com or http://digiscrapkits.com/ or http://www.marlodeedesigns.com/ or http://sugarbeargraphics.com