DD Golden Medallions Embroidery Machine Designs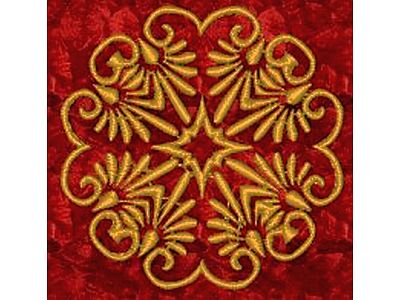 10 Designs
Golden Medallions
3.1x3.1
Digitized by Laura
See all sets by Laura
Laura's Bio
Comments about this set from the forums (updated every half hour on the half hour):
stpete73:
I purchased this set, even though I am not fond of the colors -- mostly the red, but I changed the background color fabric (still used gold metallic thread) and could not believe my eyes how lovely it turned out. I am now planning on making a quilt with the designs, the photos really do not do the designs justice. thanks so much for the lovely designs. I can't wait to try one using a varigated metallic thread that I have, think it would really be lovely, or maybe silver on a blue background?
Sonja:
Oh my - this is beautiful! Thank you.......
Leave a comment about this set on our forums
Design Set Categories: Quilt, Filled Design, Borders-Ornaments, Embroidery





Buy All The Above Designs
for $4.00

Buy Individual Designs | Vote for a Design | Print Designs | Stitch Charts


Members download this set now..[ art ][ dst ][ exp ][ hus ][ jef ][ pcs ][ pes ][ sew ][ vip ][ vp3 ][ xxx ]


Original clipart may have been purchased from:
http://www.designstitch.com or http://www.clipartopolis.com or http://www.jdsclipart.com or http://www.diddybag.com or http://scrappinggoodies.com or http://digiscrapkits.com/ or http://www.marlodeedesigns.com/ or http://sugarbeargraphics.com or http://SweetnSassyclipart.com or http://DigiWebStudio.com.com

Website and Embroidery Designs Copyright (C) Shawn Knight Systems Inc.
Permission granted to use machine embroidery designs for your own commercial and personal embroidery.
Permission denied to resell or give away machine embroidery designs in electronic format.