Lighthouses Embroidery Machine Designs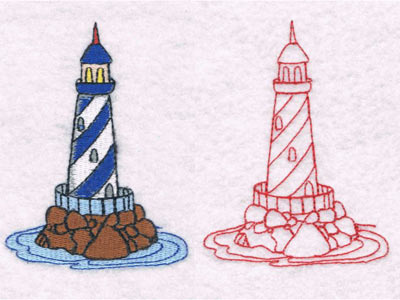 20 Designs
10 Filled and
10 One Color
All Fit the 4x4 Hoop
Digitized by Corky
Comments about this set from the forums (updated every half hour on the half hour):
Patches807:
Thanks for the nice set of lighthouses. Are they real or fantasy sites? If they are real would you be able to give us the locations, please?
granny elen:
I love these! I cannot wait to use them to decorate my new lake home when the reno is done. Thank you so much!
saskia:
and again it came in the middle of the night.
chris13212:
I think these are very sweet. I cant wait to use them. Kudos to the designer. Chris
Sonja:
Nice! Came in time for my new project.....thanks!
rycalkat:
I really like nautical designs ...want to do a mariners compass QBs and lighthouses quilt...do you think there might be a mariners compass in the works in near future....Thanks rycalkat
mwjemmott:
Lovely set of lighthouses. Thanks for sharing them with us.
clv6992:
I guess it depends on what side of the earth we reside. These came in the middle of the night for me, but perhaps in Australia, it was in the middle fo the day. I just wish I had a clue when they would come because I have stayed up late to see what would be coming up as new, but then fell asleep while waiting. They seem to show up anywhere between 5:30 to Midnight EST. from what I can determine.
CraftyTigra:
They look great! The 4th one down made me think of Rapunzel's tower =)
matejkovaKH:
Krásná sada majáků!:)
Leave a comment about this set on our forums




Buy All The Above Designs
for $7.00

Buy Individual Designs | Vote for a Design | Buy Every Design on this Site

Members: Download this set now..[ art ][ dst ][ exp ][ hus ][ jef ][ pcs ][ pes ][ sew ][ vip ][ xxx ]


Original clipart may have been purchased from:
http://www.designstitch.com or http://www.clipartopolis.com or http://www.jdsclipart.com or http://www.diddybag.com or http://scrappinggoodies.com or http://digiscrapkits.com/ or http://www.marlodeedesigns.com/ or http://sugarbeargraphics.com