Little Boy Blue Embroidery Machine Designs
Buy Individual Designs | Vote for a Design | Print Designs | Stitch Charts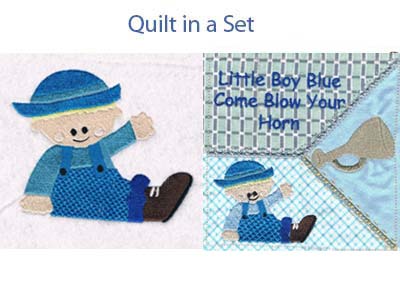 14 Designs
40th in the Quilt in a Set Series
5 Each for the 4x4 and 5x7 Hoop and 4 Crazy Quilt Designs for the 5x5 Hoop
Digitized by Heidi
See all sets by Heidi
Heidi's Bio
Comments about this set from the forums (updated every half hour on the half hour):
GMA53010:
Very cute Crazy Quilt blocks they go great with the other nursery rhymes!!! TY
Joyce500:
Thank you for another nursery rhyme. I have used several of them. Glad to see the new ones. I do miss the words on the 4X4 blocks though. Keep up with them. Joyce
nonnadonna:
I love these old nursery rhymes and am excited to see another one done in embroidery. Thanks, SICK!
psnorby:
Part of the verse is missing. Disappointed.
Patches807:
Thanks for another nursery rhyme. I looked up the verse and Wikipedia says that the last 2 lines are sometimes omitted.
Sewmuchjan:
Just toooo cute!! Thank you sew much!!
chloe:
missing- "Where's the little boy who tend to the sheep".
Elaine41:
I think the missing line actually says "Where is the boy who looks after the sheep". A shame that the nursery rhyme is incomplete.
Leave a comment about this set on our forums
Design Set Categories: Filled Design, Quilt, Sheep, Cow, Boys, Farm, Flowers and Plants, Objects & Things, Music, Animal, Sayings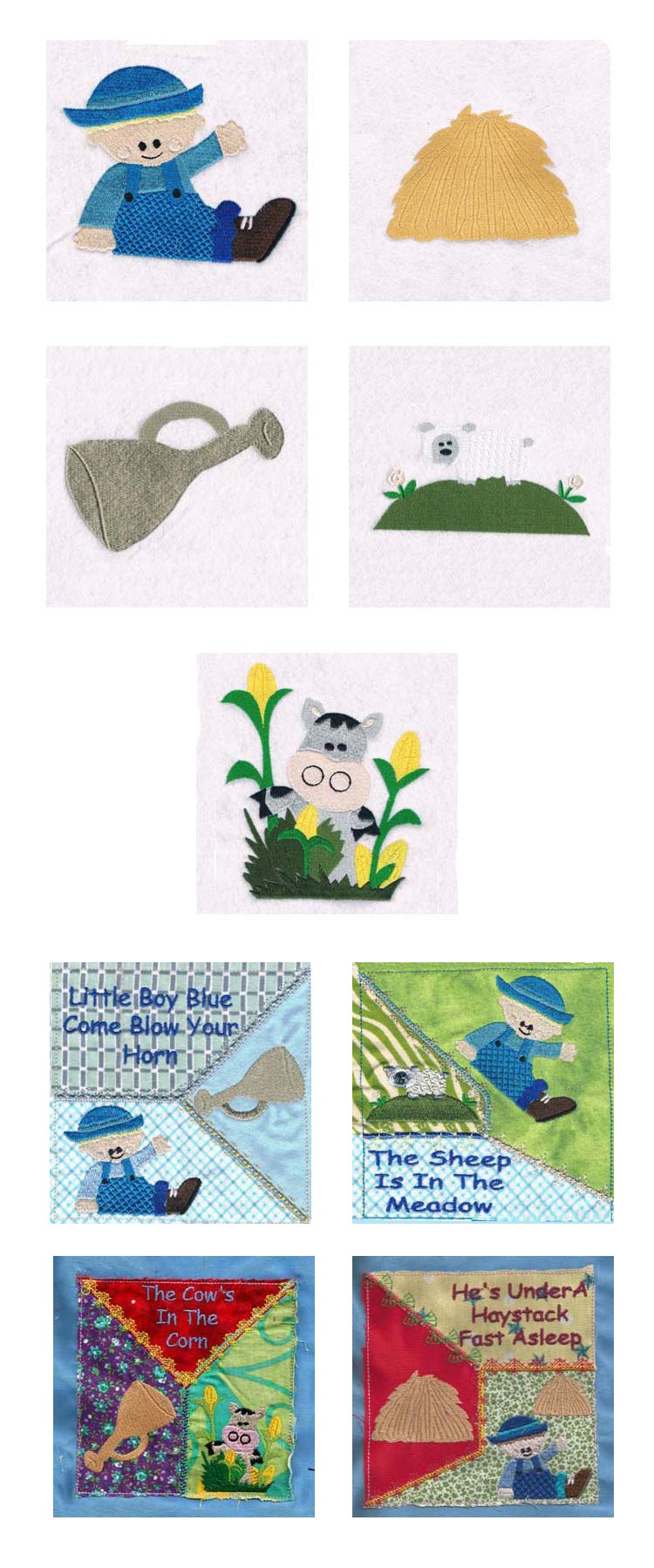 Buy All The Above Designs
for $4.00

Buy Individual Designs | Vote for a Design | Print Designs | Stitch Charts


Members download this set now..[ art ][ dst ][ exp ][ hus ][ jef ][ pcs ][ pes ][ sew ][ vip ][ vp3 ][ xxx ]


Original clipart may have been purchased from:
http://www.designstitch.com or http://www.clipartopolis.com or http://www.jdsclipart.com or http://www.diddybag.com or http://scrappinggoodies.com or http://digiscrapkits.com/ or http://www.marlodeedesigns.com/ or http://sugarbeargraphics.com or http://SweetnSassyclipart.com or http://DigiWebStudio.com.com

Contact Us | Privacy Policy | Staff

Website and Embroidery Designs Copyright (C) Shawn Knight Systems Inc.
Permission granted to use machine embroidery designs for your own commercial and personal embroidery.
Permission denied to resell or give away machine embroidery designs in electronic format.