Paper Dolls Embroidery Machine Designs
Buy Individual Designs | Vote for a Design | Print Designs | Stitch Charts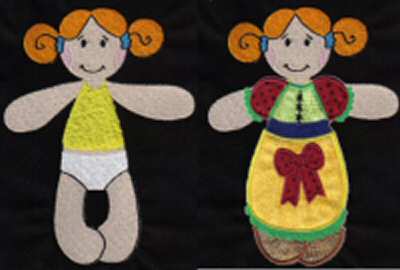 10 Designs
1 Doll 9 Outfits
All fit 5x7 hoops
Digitized by Heidi
See all sets by Heidi
Heidi's Bio
Comments about this set from the forums (updated every half hour on the half hour):
Annesarts:
I've had these designs for awhile, but just sewed them out. I hope my grand-nieces like them as much as the 50-somethings I've shown them to LOL. I outline both sides of the designs with Fray Check and let it dry before cutting out: result is no fraying applique fabric. 3749137492
flbaker:
Thank you for this information I hope others will post more on this subject
GMA53010:
How do the clothes stay on?? very cute travel set.
Mary Loy:
What do you use as backing? sand stabilizer?
Jamller:
I am stitching these for my 3 year old granddaughter. She is thrilled and so am I. I used a heavy weight stabilizer from JoAnn's for the doll. Because the clothes are applique I only used one layer of Aqua Magic. I am going back to JoAnn's or Michael's to buy the Aileen's sticky stuff for the back of the clothers. I like the applique style clothes much better than I thought I would. My youngest daughter still has a set of the heirloom dolls Martha Pullen did for Pfaff. They are beautiful, but for a young child, SiCK's rock!!!
Jamller:
I read several suggestions and the one I like best is the Aileen's Sticky Stuff. I use a small stiff brush to "paint" it on the back of the doll clothes then let it dry overnight. It can be reapplied if the sticky wears out and it holds the clothes on reasonably well.
Leave a comment about this set on our forums
Design Set Categories: Applique, Filled Design, Clothing, Girls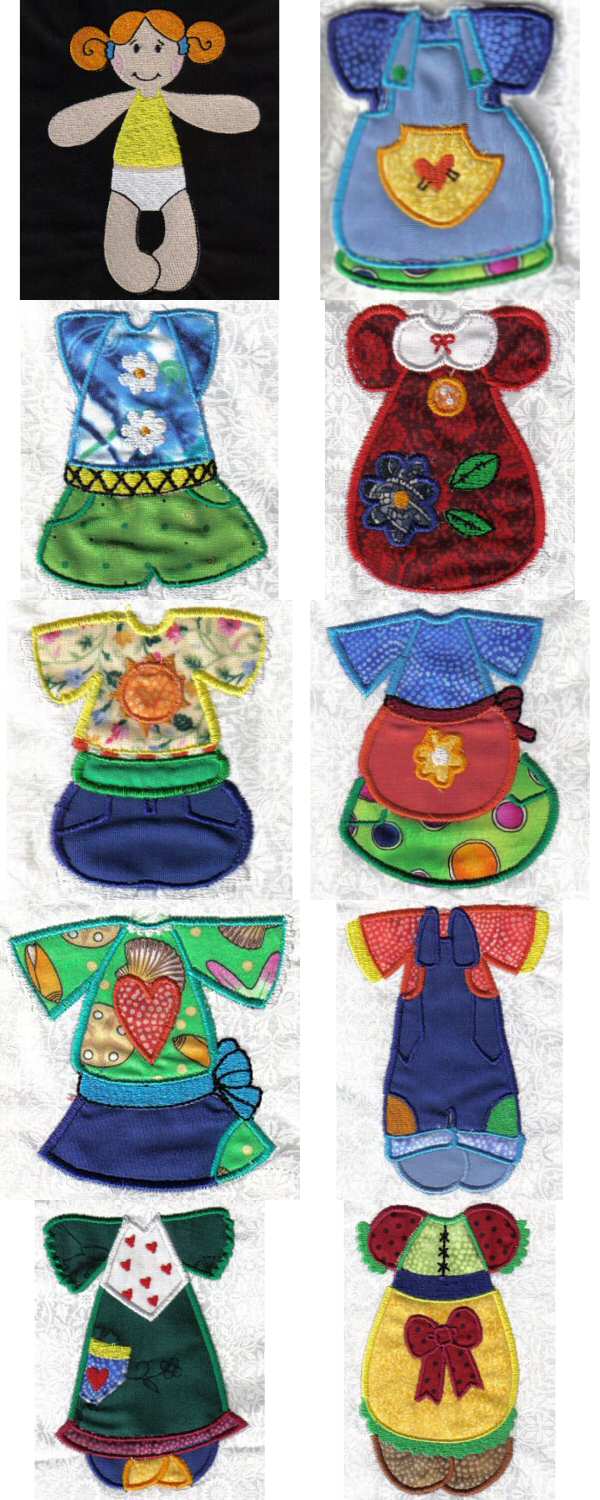 Buy All The Above Designs
On Sale: 4.00 $1.50

Buy Individual Designs | Vote for a Design | Print Designs | Stitch Charts


Members download this set now..[ art ][ dst ][ exp ][ hus ][ jef ][ pcs ][ pes ][ sew ][ vip ][ vp3 ][ xxx ]


Original clipart may have been purchased from:
http://www.designstitch.com or http://www.clipartopolis.com or http://www.jdsclipart.com or http://www.diddybag.com or http://scrappinggoodies.com or http://digiscrapkits.com/ or http://www.marlodeedesigns.com/ or http://sugarbeargraphics.com or http://SweetnSassyclipart.com or http://DigiWebStudio.com.com

Contact Us | Privacy Policy | Staff

Website and Embroidery Designs Copyright (C) Shawn Knight Systems Inc.
Permission granted to use machine embroidery designs for your own commercial and personal embroidery.
Permission denied to resell or give away machine embroidery designs in electronic format.