Back to Top
In The Hoop Quilt Block Piecing 4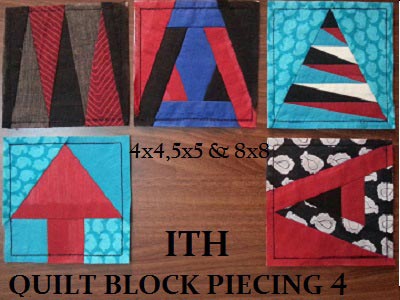 15 Designs
3 Each for the 4x4 5x5 and 8x8 Hoops
Digitized by TFJK
Buy This Design Set
On Sale: 4.90 $1.00
VIP Members download this set now..
[ art ][ dst ][ exp ][ hus ][ jef ][ pcs ][ pes ][ sew ][ vip ][ vp3 ][ xxx ]
Design Set Categories: Quilt, Sewing

Comments about this set from the forums (updated every half hour on the half hour):
ebanders:
Thanks for another set. Forgot to re-set the voting... VOTING page still shows this as available, hasn't been reset. Quote from voting page: "Voting was restarted on 2016-10-04 17:33:48"
Tfjk:
For anyone who has downloaded this set and the stitch charts, please note that the stitch charts are incorrect! They are of ITH Quilt Block Piecing-3! I have informed Rob already and she will let us know soon when this has been fixed! :)
ebanders:
Tfjk, thank you so much for letting us know! Again, thank you for watching over your designs & related posts. And I highly respect a person who recognizes an error, takes responsibility and notifies people of it. Thank you for your integrity. You could have just done nothing, not told anyone, taken the steps to correct but not NOTIFY US. It's wonderful that you notified us right away, so we can make note to get the proper files when available. It prevents a lot of problems down the road!
ebanders:
Note - we're still waiting for the correct thread charts. Thanks.
Tfjk:
The stitch charts have been changed now.....thanks a lot Rob :)
NeauxBunny:
You are so welcome! Thank you for letting me know!!! :) hugz rob
ebanders:
Thank you for responding to the request! It's wonderful to see the system working well for us!
ebanders:
I just tried downloading "In The Hoop Quilt Block Piecing 4". The page for downloading the Stitch Charts SHOWS the charts for set 4, and the download folder is NAMED set 4, but... the Stitch Charts inside the download folder are still NUMBER THREE! Uh-oh... Could we try again, please? I'd really like to get this set downloaded. Thank you!
NeauxBunny:
MY FAULT!!!!! Originally uploaded the color charts for 3... (they are one right after the other on my harddrive ...sorry)... AND THEN! After uploading the proper color charts..I forgot to delete the zipped file!!!! I have just done that...and the website will generate the zipped file...the correct one! Feel free to contact me if you find an error with a new set. That way, I can correct it immediately! hugz rob (rob@designsbysick.com)
ebanders:
Thanks, Rob! No harm done. And you "fessed up" to it, too! And better yet, YOU FIXED IT! Yea!
Leave a comment about this set on our forums
Like this design set?

Pin this design set?
Pin It
Tweet this set?
Tweet

Original clipart may have been purchased from:
http://www.designstitch.com or http://www.clipartopolis.com or http://www.jdsclipart.com or http://www.diddybag.com or http://scrappinggoodies.com or http://digiscrapkits.com/ or http://www.marlodeedesigns.com/ or http://sugarbeargraphics.com or http://SweetnSassyclipart.com or http://DigiWebStudio.com or http://delightful-doodles.com
Contact Us | Privacy Policy | Staff

Website and Embroidery Designs Copyright (C) Shawn Knight Systems Inc.
Permission granted to use machine embroidery designs for your own commercial and personal embroidery.
Permission denied to resell or give away machine embroidery designs in electronic format.