Vote for a Design in this set
Print Designs in this set
Stitch Charts for this set
Tropical Designs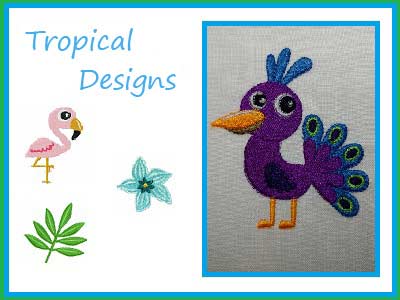 10 Designs
All Fit the 4x4 Hoop
Digitized by ChristieF
Buy This Design Set
On Sale: 12.60 $2.00
All machine formats included with purchase! Optional: get it on CD after purchase!
VIP Members download this set now..
art dst exp hus jef pcs pes sew vip vp3 xxx
Design Set Categories:
Filled Design Bird Toucan Flamingo Animal Flowers and Plants

Like this design set?

Pin this design set?
Pin It
Tweet this set?
Tweet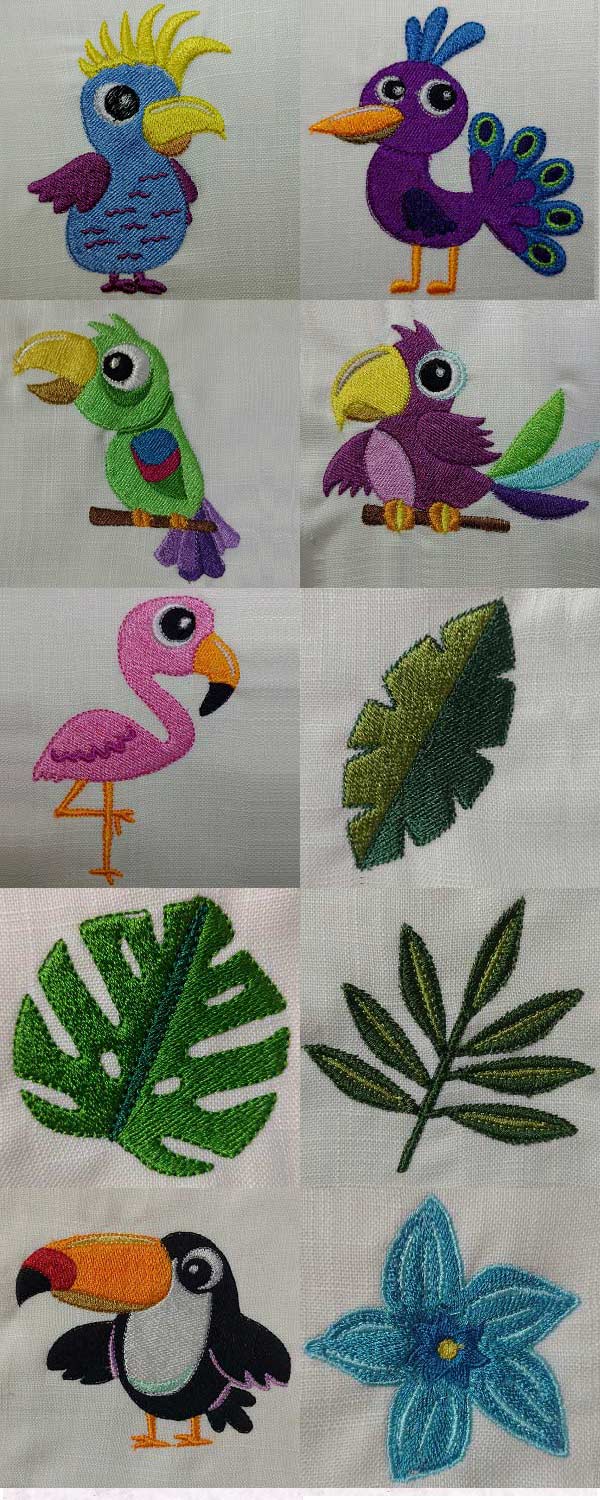 Comments about this set from the forums (updated every half hour on the half hour):
NeauxBunny:
I have pulled the set and sent an email to the Digitizer. Hopefully it will be corrected and back online shortly... hugz rob
MystSinger3:
It is so nice to know what happens behind the "scenes". I loved this set, bought it when I saw it was available, then the price went down, then it disappeared! Hopefully when it comes back I can just re-download it and have files for the great designs pictured. I am nearly blind so I don't get right to any of these. It is great that people are out there who are able to sew them out when they first get them. Thanks to all of you who do that & then send in reports & rate the designs so the rest of us aren't left just guessing. MystSinger3
baggldy:
I bought TROPICAL DESIGNS with my points .... how do I get a new corrected set when they are done????????
pennyhal:
Thanks! Today's version has appropriate underlay.
Georgianna:
Thanks for all you do.
catlynn:
I see that this set is back in the vote for a new set section. It looks like the same set as before. Should it be in the voting section or just released again and if there was something wrong and it is fixed can those of us that already bought it before it was pulled dl it again to get the updated set. I used pts to buy it the first time around. Thanks Catlynn
dragonflyer:
Thank you for pulling this set...not only does it have underlay problems, there are numerous jumps that are totally unnecessary...in other words...poor pathing. Hopefully the digitizer will not only fix the underlay problems but also work to path these designs properly...I would hate to see the quality of the designs here revert to what they were last year...there has been much effort to improve and is appreciated.
dragonflyer:
I am not sure why this set is up for voting again...it won and was put up for sale and then it was pulled due to the poor quality of the digitizing. I, too would like to know if this set has been redigitized and is now fit for sale...if so, it should be put back up in available sets for purchase and a note added that it has been redigitized so that people who paid for this set and VIP members can re-download it. An update as to the current status of this set is needed.
dragonflyer:
Glad the underlay was fixed...too bad the digitizer did nothing to improve the poor pathing...
ebanders:
re: "Tropical Designs" These designs are poorly digitized. I found only one with complete underlay. One or two had partial underlay. The remainder are designs which have NO underlay stitching, which means they will pucker, not lay nicely, will not look like the quality designs we're used to seeing at DBS. I had thought that designs were being screened now for this quality, but apparently not. Now I must go back and check all the recent designs / designers' work for underlay, before even downloading and saving them in my files. SICK, you deserve better digitizing for your website; and we as embroiderers have come to expect and experience increased quality. Thank you for the efforts you have indeed made to increase the website's quality!
ebanders:
Good job, Rob! So good to see the dedication to quality. We want to develop a good reputation, especially with the growth of the website, the addition of KatieDo designs, Shawn's advertising, and all the work on the website. It's so wonderful to see the responsiveness. Thank you for ensuring that we have good quality designs, AND for communicating this to us. Awesome.
Leave a comment about this set on our forums

Original clipart may have been purchased from:
http://www.designstitch.com or http://www.clipartopolis.com or http://www.jdsclipart.com or http://www.diddybag.com or http://scrappinggoodies.com or http://digiscrapkits.com/ or http://www.marlodeedesigns.com/ or http://sugarbeargraphics.com or http://SweetnSassyclipart.com or http://DigiWebStudio.com or http://delightful-doodles.com
Contact Us
|
Privacy Policy
|
Staff
Website and Embroidery Designs Copyright (C) Shawn Knight Systems Inc.
Permission granted to use machine embroidery designs for your own commercial and personal embroidery.
Permission denied to resell or give away machine embroidery designs in electronic format.